The American Colony Hotel
American Colony Hotel
Nablus Road PO Box 19215
Jerusalem, 97200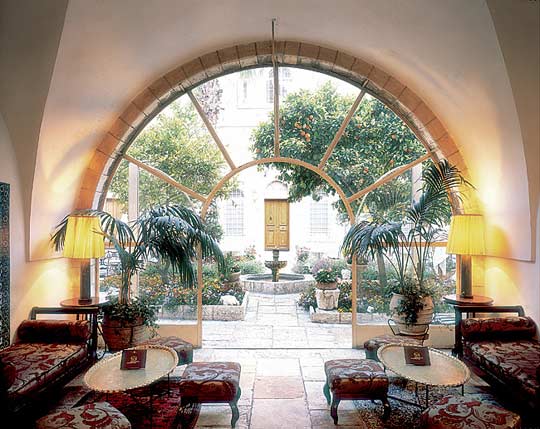 The American Colony Hotel is the most beautiful hotel in Jerusalem where East meets West in this quiet oasis set in the heart of the Holy Land close to the Old City which teems in history and holy sites.
This famous hotel combines and preserves the elegance and style of the past with the comfort and technology of today.
Formerly a Pasha's palace built in the 19th century the American Colony Hotel is located just north of the Old City walls only a few minutes walk from Damascus Gate and within easy access of the main vehicular routes, a perfect base for business, pleasure and pilgrimage to the Holy City.

Facilities include
The Old Wing - the original American Colony
New Wing - adjoining the Old Wing
East House - quiet, detached, with vaulted ceilings
Palm House - recently renovated with beautiful gardens
Pasha's Room - for conferences, dinner parties & cocktails.....
Arabesque Restaurant - continental and arabic cuisine
Poolside Restaurant - for a lighter meal
Courtyard Restaurant - the very essence of the Colony
Cellar Bar & Ibrahim's Summer Bar - meeting point for journalists and the discerning traveller
Extensive Gardens - lovingly maintained and a landmark in Jerusalem
Swimming Pool - heated when necessary
Off-street Parking - free for hotel guests
Customer Services - caring for travel arrangements
Shops & Gallery - exquisite local products


Rooms
Delightful rooms range from: Executive Class - modern, well appointed with all amenities
Junior Suites - larger rooms with sitting areas
Suites - four distinct styles in constant demand
Pasha's Style - a picture tells a thousand words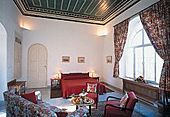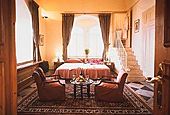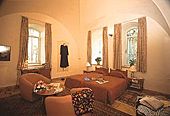 more israel hotels
American Colony Hotel Jerusalem