Haifa Hotels Guide
Please click HERE for rates in all Haifa hotels
TOP value choice! - DAN PANORAMA
Walking distance to the Bahaii Gardens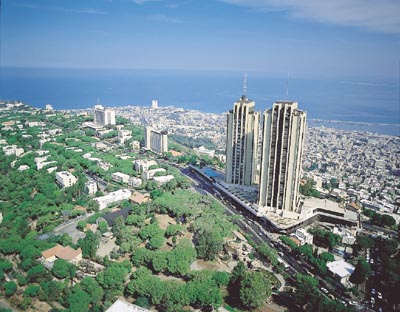 No visit to Israel is complete these days without a visit to the newest "wonder of the world" The Bahaii Gardens".

Many of the hotels in Haifa offer breathtaking views over the gardens. Even when this is not the case, many Haifa hotels have magnificent views of the Haifa Bay below. Haifa can serve as a base for touring the North of the country.

Don't forget Haifa's magnificent beaches, as well as as well as the numerous holy sights that are spread out around the city of Haifa.

Haifa is an easy day trip from both Jerusalem and Tel Aviv.

Name of the Haifa hotel
Notes
Dan Carmel
5 star - recommended
Dan Panorama
5 star - recommended
view of shrine of the Bab
Gallery Hotel
Newly opened
Crowne Plaza Haifa hotel
Special Winter Rates
Carmel Forest Spa Resort
For rejuvenation!
Haifa Tower
Leonardo ( ex Meridien )
On the sea shore
Nof Hotel
Good Value - near Bahai shrines
Shulamit
Tourist Class
The Colony Hotel
new!
Click HERE for more Israel Hotels
Click HERE for interactive hotel map showing the locations of all Haifa hotels
Haifa hotels guide
Please click HERE for on-line reservations