The Mamilla Hotel, Jerusalem
THE MOST CENTRAL AND IDEAL LOCATION!
11 King Solomon Street , 94182 Jerusalem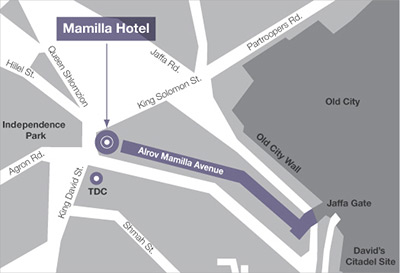 The Mamilla Hotel, Jerusalem's newest and most fashionable venue ushers in a new experience of exceptional hospitality in Israel. This elegant lifestyle hotel featuring 194 rooms and suites is the center of Jerusalem's rich cultural heritage and bustling daily life.
The Mamilla Hotel's exquisite contemporary design was created by Piero Lissoni, one of Italy's leading architects and designers. The Hotel's unique atmosphere has been complemented by its combination of the trendiest interiors, lighting and sound. The real emphasis will be on a new level of personalized service. Guests have a choice of a variety of lively venues.
Dining possibilities includes a spectacular rooftop restaurant, a fashionable bar, an espresso corner, an engaging wine tasting bar, a lobby café and an organic snack and juice bar. Another highlight is the holistic well-being center with its innovative and cutting edge gym and spa.

The Mamilla hotel has a state-of-the-art business center, in-house synagogue, babysitting services, ample underground parking and nearby vehicle rental.

Spacious indoor heated swimming pool and toddler's pool

A stay at the Mamilla Hotel is enhanced by its unique location on Alrov Mamilla Avenue, Jerusalem's new shopping and entertainment experience overlooking the Old City. This stretch of beautiful architecture, that connects the Old and New City, features an array of high-end shops, cafes and restaurants that offer an unforgettable shopping and entertainment experience.
Situated minutes from the Old City's Jaffa Gate and the historical Tower of David, the Hotel offers proximity to Jerusalem's most sacred sites and stylish walkways.

Rooftop sun terrace with 180º views of the Old City

The hotel has 194 guest rooms including: 80 connecting rooms, 131 Studios: beautifully designed rooms for two, 30 Executives Rooms: Large bedrooms with a comfortable sitting area, 25 Mamilla Suites: Bedroom and living room, facing the Old City/Alrov Mamilla Avenue, 7 Residence Suites: Spacious bedroom and living room, facing the Old City/Alrov Mamilla Avenue and 1 Presidential Suite: Spacious bedroom, living room, dining/study area and kitchen, facing the Old City.
More Israel hotels
The Mamilla Hotel, Jerusalem