Hotel Rooms
The hotel has 93 rooms suitable for couples or families, some of which offer magnificent views of the Sea of Galilee, the town and the Galilean hills. All rooms have air-conditioning and an en-suite bathroom, a radio, television and telephone with international direct dialing.

Standard Rooms
Rooms are suitable for couples with one child and may accommodate up to three adults. Some rooms also include a sofa-bed.

Meals
Breakfast served daily; Dinner available upon prior reservation, served buffet-style in the Kinneret Lounge on the Hotel's lower level. On Shabbat and Holidays, dinner waiter service is provided.

Lobby
The hotel lobby offers soft and hot beverages in a welcoming and relaxing atmosphere

Religion services
Synagogue
Sabbath elevator
Kashrut under the supervision of the Tiberias rabbinate


Swimming Pool
The hotel has a magnificent outdoor swimming pool next to an extensive wooden tanning deck, for swimming or relaxing before spectacular views of the town and the Sea of Galilee.

Ironing Room
An ironing room is at guests' service, containing an iron and ironing board.

Laundry & Dry Cleaning
Laundry and dry cleaning services are available at the hotel for at supplementary fee

Parking
Guests are free to use the hotel's private parking lot (subject to availability).

Events:
The perfect venue for your family's next simcha, specializing in Shabat Bar Mitzvah and Sheva Brachot. In addition to the regular Kashrut of the Hotel, Glatt Kosher meals Chatan, are available (at additional cost). The following facilities are available for a family event:
- Separate hall for meals (Hepuch Aruchot);
- Separate hall for Oneg Shabbat;
- Private Synagogue & Sefer Torah;
- Preference in allocating guest-rooms;
- Appetizing and innovative cuisine.


The hotel offers a variety of halls of different sizes. Meals can be arranged either buffet style, with waiter service, or as cocktail hours.

Seminars:
Offering several suitable venues for lectures, seminars or classes.Supplies and equipment to facilitate your event are provided, including: flip-charts, writing pad and pen for each participant, overhead projector, slide projector and microphone.Refreshments are available at an additional charge, including baked goods, snacks, and cold and hot beverages.

Hermon Hall: Panoramic view of Lake Kineret and the Golan Heights.

Capacity: 150 people at tables; 80 in a "U" formation; 80 in an oval formation; 200 in theater formation.

Kineret Hall: Capacity: 70 people at tables; 50 in a "U" formation; 50 in an oval formation; 120 in theater formation.

Golan Hall: Suitable as meeting room and Bet Knesset. Capacity: 300 people at tables; 400 in theater formation.

Prima Tiberias offers two outdoor terraces with panoramic views of the town and Lake, perfect for unique cocktail events, business gatherings and meetings, with a capacity of 500 people at tables.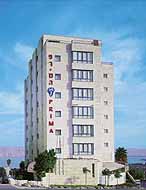 Prima Tiberias
Prima Tiberias
reception
Prima Tiberias
lobby
Prima Tiberias
room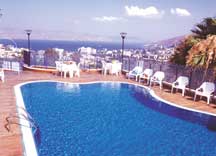 Prima Tiberias
pool