Tel Aviv - Israel's most cosmopolitan city offering sun, sand, beaches and a variety of tourists attractions to its many visitors.

CLICK HERE FOR ALL HOTELS

Today, a wonderful promenade stretches from Bat Yam! north of the city to the Tel Aviv port in the South, offering a wonderful opportunity for a long lazy stroll along the beach, stopping off an one of the many restaurants along the way.

The Tel Aviv port is an area bustling with night clubs and restaurants for every taste and pocket. On Saturday, there is a small outdoor market, and street entertainment for the children.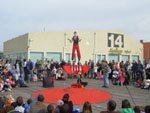 The small port city of Jaffa is a few minutes walk, and is a fascinating destination for tourists with its old winding alleys and port. The Jaffa Port also has a new shopping and dining center, located directly on the port by the yachts and boats.
Tel Aviv Hotels vary from small boutique hotels in the Feng Shui style to the larger well known international brands such as Sheraton and Crowne Plaza. Fattal has now also opened hotels in Tel Aviv.
Don't forget Tel Aviv's rich cultural offerings including music, dance, theatre, art galleries museums and film.
Must visits include the Nevei Tzedek neighborhood, Shuk Hacarmel ( the outdoor food market ) and the arts and crafts market on Nachalat Binyamin that takes place ever Friday.
In July and August, the heat and humidity can be a little stifling, but for most of the rest of the year, the weather is ideal.